Western Regional Graduate Program (WRGP)
Western Interstate Commission for Higher Education (WICHE) has approved the University of Utah to participate in the (WRGP). Students may be eligible for a reduced tuition rate if they are a resident of one of the following WRGP participating states: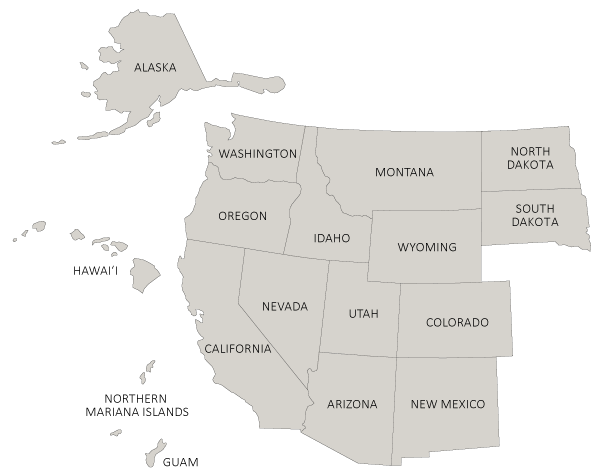 Graduate programs currently participating in WRGP
Not all Ph.D., Graduate, and Certificate programs are offered at the WRGP tuition rate. Program participation may change at any time.
WICHE guidelines mandate that if a department/program elect to discontinue participation in the WRGP program and it is no longer available at the discounted rate to new students, it hold harmless any currently enrolled graduate students who were previously awarded the discounted WRGP rate and we will charge them resident tuition through their graduation.
The WRGP rate is only for students (from WICHE member states/territories) enrolling on the UU campus, in a WRGP-eligible graduate program.

Questions? Contact Paula Spencer 801-587-5856 | paula.spencer@gradschool.utah.edu
Note: Changes in WRGP policy (Spring 2019) allow individual WICHE institutions to charge up to 150% of in-state tuition to WICHE region students beginning Fall 2020. For WRGP students admitted before Fall 2020, the University of Utah will continue to charge in-state tuition through the completion of their degree program. However, WRGP students entering Fall 2020 (and beyond) will be charged 110% of in-state resident tuition for the duration of their graduate career.
WRGP Application Process
• DO NOT submit your admissions application directly to the Office of Admissions until you get approval from the Academic Department. If your application is not approved by the Academic Department under the WRGP program before you apply to the University Admission Office, you may be charged full out-of-state tuition.
• Applicants must meet the WRGP admission requirements and deadlines set by the Academic Departments. This information may be obtained from the Academic Department.
• If your program is eligible, apply directly to your degree program or department and identify yourself as WICHE WRGP applicant.